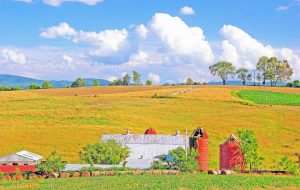 Plans are being made for the Melungeon Heritage Association's 23rd Union (meeting) in Wytheville, Virginia, Friday and Saturday, June 21 and 22, 2019. This includes a trip to Burke's Garden on Friday, a reception Friday evening, and speakers on Saturday. Our Saturday theme this year is "Melungeon Women."
All persons interested are welcome, whether the interest is in Appalachian history, women's history, or Melungeon history. The Melungeon Heritage Association invites membership, but one does not have to be a member to attend nor does one have to have Melungeon ancestry. The Melungeon Heritage Association is inclusive of persons who are Melungeon, think they are Melungeon or a related people, or simply have an interest in Melungeon history.
Wytheville is the county seat of Wythe County in the beautiful Blue Ridge Mountains of Virginia. Convenient to interstate highways, Wythe County is largely rural with pasture land and forests and the historic north-flowing New River.
Look for updates on how to register, lodging discounts, and the speaker schedule. For more information, email the Melungeon Heritage Association at mhainc2000@yahoo.com